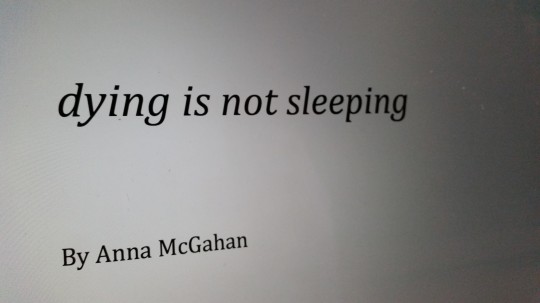 This weekend I had the pleasure of sitting in on the first play reading of Anna McGahan's new play 'Dying is not Sleeping'.
I read the first incarnation of this script back in October of 2012, when at that stage it was still just an idea in Anna's mind, and now it's finally got to the point of a reading.
What really struck me, was the amount of people in the room that were so captivated, so silent, so taken in by Anna's strong poetry.
A huge thanks to everyone that came to give the creative team some great ideas and feedback for us to move forward. Particular thanks must go to Marcel Dorney, Emily Joy, Maddie Chaplain, Dean Sellman, Tim Coghill, and in his absence – Craig Wilkinson.
I cannot wait until we take the next big step with this project.
Watch. This. Space. (If you've read the script, that pun was intended.)